Our mission is to provide our customers with high quality, cost effective and personalized services which will support and encourage safe and efficient ship operation.

We look forward to being of service to you and we are sure we will be able not only to meet your requirements but also to exceed your expectations.

Our Company is new in booming market of shiprepairs but we have well experienced technically fit workforce of same.

We are very much aware that due to the heavy demand, huge immense pressure involved in this profession.

We are sure that an esteemed institutions like yours would be pleased to have an organization like ours with less costing and a strong sense of commitment to make your work so simpler.

With this basic idea in mind we would like to propose ourselves as one of the best contenders for getting your valued contract for further progress of company in market.

We provide services for...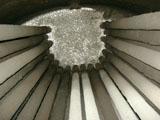 Click for : Labour Charges...
We take pride in maintaining and servicing your engines. Our service teams are capable of
Repairing of all types of marine main engines and auxiliary engines, Turbo charger overhauling, Overhaul and repair of engine exhaust valves, Fuel timing adjustments, Fuel pump and governor overhauling and setting, trouble shooting of machinery and engine problems

We provide comprehensive service on steel fabrication, welding and piping. Our services include
Repair, welding and reconditioning of ship machinery such as marine shafts, propellers, pump housings or valves, Seal-weld of boiler tubes end; - Build up on exhaust valve and seat, Steel work fabrication of all kinds such as superstructure, deck, bulwark, cargo hatches, container lashing, railing stiffeners, fabrication of winch drums and storage devices, Steel renewal of all types of marine crafts, Steel renewal for hull sections or Internal tank structures including peak tanks can be carried out by us at maximum speed